6 weeks - 2 years old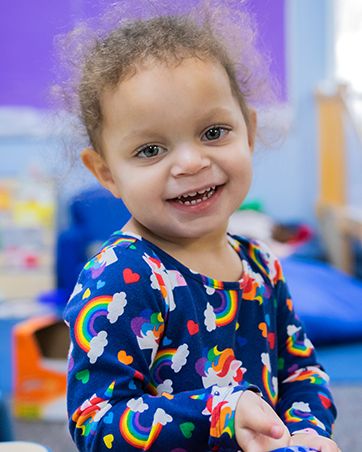 CDC's Infant and Toddler classrooms provide individualized care and early childhood development activities for your child beginning at six weeks of age. 
A Day in our Infant/Toddler Programs
A primary caregiver is assigned to each child to meet their specific needs. They use daily nurturing routines (diaper changing, eating and mealtime, hellos and goodbyes, sleeping, etc.) to develop and maintain a trusting relationship with your child. Meals and snacks are included in your weekly tuition fee, and structured play, free play, arts and outside time (weather permitting) are part of every day's activities.
Learning Through Play
In our centers, infants and toddlers learn and grow through play with many educational and developmental opportunities. Utilizing The Creative Curriculum®, teachers develop specific age-appropriate lessons for their classrooms and document your child's progress and milestones on an everyday basis. 
This program at CDC's Cranberry, Franklin and Oil City centers is for infants and toddlers up to their third birthday, and for expectant mothers and their families. The weekday program provides full-day, year-round child care and early childhood education, a nutritious breakfast, lunch and snack for the children, periodic home visits and access to high-quality health care services, plus services for expectant moms before and after they give birth.

Early Head Start is intended to promote early childhood development, to engage parents in their roles as caregivers and teachers, and to help families move toward self-sufficiency. Another purpose is to provide a strong foundation of early learning that allows children to make a successful transition to preschool and kindergarten.

Grant funding covers most costs of the Early Head Start program for working, income-eligible families. To qualify for Early Head Start, a family's income must be at or below the federal poverty level (currently $26,500 for a family of four).

To enroll your child or learn more about Early Head Start, please call 814-670-0643

The Early Learning Resource Center (ELRC) operates Pennsylvania's child care subsidy program statewide, including in Venango, Crawford and Erie Counties. The ELRC helps income-eligible families to find and pay for child care or early childhood education (including before- and after-school care and summertime care) so the parents can work or attend school.

Many families are not aware that they and their child care provider are eligible for ELRC funding. If your family meets the income and work or school requirements of the program, and your child care provider qualifies, the ELRC may be able to help you. 

To learn more about the ELRC and its financial assistance program, please call

(814) 518-5226 or toll-free (855) 294-9015
631 12th Street, Franklin, PA 16323

(814) 337-8055 or toll-free (800) 682-6118
996 South Main Street, Meadville, PA 16335

(814) 836-5898 or toll-free (800) 860-2281
3823 West 12th Street, Erie, PA 16505

The Pennsylvania Department of Human Services (DHS) funds the ELRC child care subsidy program.
To enroll your infant/toddler or learn more, contact your local Center Director